Peaceful, uncrowded nordic skiing at the Deer Creek/Boulder Summit trail area.
Deer Creek Summit North Loop Trail #40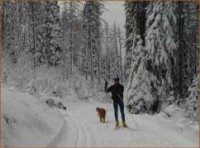 Description: Extraordinary hiking in the spring, summer and fall, and uncrowded, peaceful cross-country skiing in the winter. That is what you'll find at the Deer Creek/Boulder Summit Trail area.[read more="Read more" less="Read less"] The staging area is located at one end of the Kettle Crest National Scenic Trail. The parking lot is large and can handle large vehicles. Here you'll find restrooms, and an instruction area. If you plan on staying more than one night, the Deer Creek Forest Campground is located right across the road. The tree-shaded campground can accommodate large vehicles. Hunting season can be the busiest time here, be sure and wear your safety orange if heading out in the fall.
In the winter, Deer Creek offers 12 miles of groomed cross-country trails, for both Nordic and skate skiers. Further out you'll find snowmobile-free, dual-track, ungroomed trails, with view points along the way. Keep an eye out for lots of wildlife (or their tracks), including moose and snowshoe hares. A Sno-Park permit is required during the season, which may extend into April.
The town of Curlew is nearby, and a good place to restock or have a meal.[/read]




[flexiblemap src="https://newashingtontrails.com/KML/BoulderSummit.KML?v=2″ width ="300″ height="400″ maptype="terrain"]
Boulder Creek Summit Trail on Trailforks.com